There are three ways to become a Shrine & Temple Carpenter:
1.Shrine & Temple Carpenters Training School
A school to train shrine & temple carpenters incorporates positive aspects of the apprentice system and vocational schools to fit the modern age.
Through a three-year program, we train candidates into skillful shrine & temple carpenters.
Advantages
Acquisition of the artisan lifestyle
Effectively mastering techniques through
practice

Lower cost


Shrine & Temple Carpenters Training Program:

1.95 million yen

per 3-year program
(Vocational School:
5.7 million yen per 3-year program)
Disadvantages
Need to live at the school on weekdays  (Mondays through Fridays)
2.Apprentice System
First, candidates apply for apprenticeship with the Master of Shrine & Temple Carpenters in order to become a live-in apprentice at his house.
Apprenticeship training takes 10 years, during which candidates also do chores related to food, clothing and shelter.
Advantages
Opportunity to learn techniques
Disadvantages
No personal time
Need for 10 years of training
No permission to do actual work is given for a long time
Grueling training that leaves only a handful of candidates out of 100 after 10 years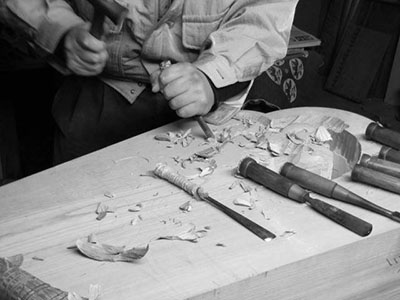 3.Vocational School
Just as with common vocational schools, candidates go through an established, three-year curriculum.
Advantages
Learning along the curriculum
Disadvantages